At Align, your physical therapy treatment is performed 1:1 with a Doctor of Physical Therapy (DPT) who is Board Certified in Orthopedics (OCS). These certifications are the highest awards offered by the American Physical Therapy Association (APTA) for Orthopedic Physical Therapy. Each patient will be evaluated with a whole body approach to find the root of the problem. Sometimes where the pain or injury occurs is not the root of the problem but the weakest spot at the end of the chain. This type of examination helps the patient return to prior level of function and often, better and stronger than prior to the injury/pain. Patients will receive exercises to perform at home in order to supplement visits in office. Patients will be evaluated each time they treat and sessions will be tailored to the individual for that day.
Some conditions we treat:
The McKenzie Method® (MDT: Mechanical Diagnosis and Treatment)
The Mckenzie Method, also known as MDT: Mechanical Diagnosis and Treatment is a philosophy of active patient involvement and education that is trusted and used by clinicians and patients all over the world for back, neck and extremity problems. This approach continues to be one of the most researched physical therapy based methods available. A key feature is the initial assessment - a safe and reliable way to reach an accurate diagnosis and only then make the appropriate treatment plan.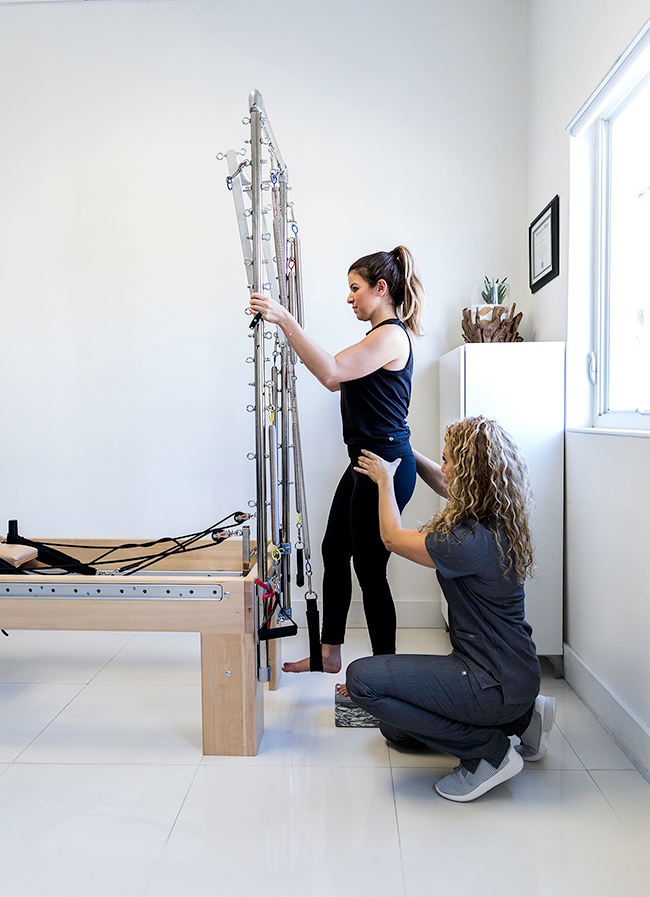 Pilates is an excellent platform for cross training, alignment, proprioception, posture, and improving your physical fitness. Alongside Physical Therapy, Pilates can help you:
Align Private Pilates Sessions take place on the Balanced Body Clinical Reformer with Tower, the number one choice of hospitals, rehab clinics and private practitioners worldwide. Sessions on the Reformer are excellent for anyone from beginners to patients and clients with Pilates experience. The machine can either be assistive or resistive based on the exercise being performed.
The private setting lets us design a session around your needs and take time with the details that are important to you. The unique two-in-one Pilates equipment offers adjustable resistance and creates a framework to improve awareness of alignment. A Private Session will help you improve strength, coordination, proprioception, and leave you feeling lengthened.
Pilates is an excellent platform for cross training, alignment, proprioception, posture, and improving your physical fitness. Alongside Physical Therapy, Pilates can help you:
FMS

The Functional Movement screen identifies Physical Imbalances and Weaknesses Through a Series of Functional Movement Patterns.

Y-Balance

The Y Balance Test Kit™ is a quick and easy way to test a person's risk for injury as well as demonstrate functional symmetry.

As an integral part of the Functional Movement Systems, the Y Balance Test is a thoroughly researched, yet easy way to demonstrate functional symmetry and performance as well as test a person's risk for injury. The Y Balance Test Protocol was developed through years of research in performance improvement and injury prevention using the Star Excursion Balance Test. This device and protocol are highly accurate and can be used for measuring pre and post rehabilitation performance, improvement after performance enhancement programs, dynamic balance for fitness programs, and return to activity readiness.

Postural Evaluation

At Align Physical Therapy, patients can opt to go through a posture screening which will identify asymmetries and malalignment. Since modern day society spends most of their time sitting at a computer, hovered over an iPad, texting on a phone, or simply slouching on a couch, it is necessary to be aware of our posture in order to minimize risk for injury. Posture is crucial to keeping a healthy spine and healthy extremities.

Inefficient Static Postures include:

Sway Back
Flat Back
Scoliosis
Lordosis
Kyphosis

 
Postural Syndromes:

Upper Cross Syndrome
Lower Cross Syndrome

 
Education and awareness are key to prevention of injuries. Patients are educated on the importance of knowing how to sit, how to stand, how to properly perform their exercises/work outs in order to recruit muscles in proper timing and with the most optimal form.